Ability to close financial period for specific modules
| | |
| --- | --- |
| 1. | Go to Accounting menu > Fiscal Year Periods. |
2.

When the

Fiscal Year Periods

form opens, you will see the

Close Modules button

. Click that button to open the

Module List

form, where you can set the modules you want to close. Closing a module simply means preventing users from posting or unposting transactions on that closed module.
In this example, Accounting Module is set to be a close module (Open checkbox is unchecked.)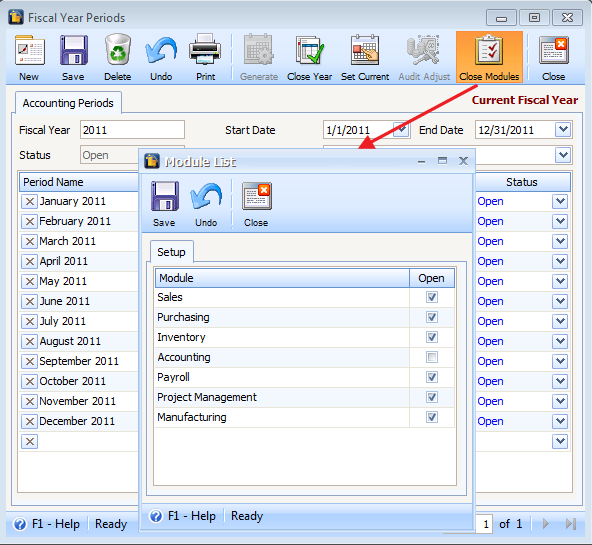 Now posting/unposting any Accounting transaction will be prevented.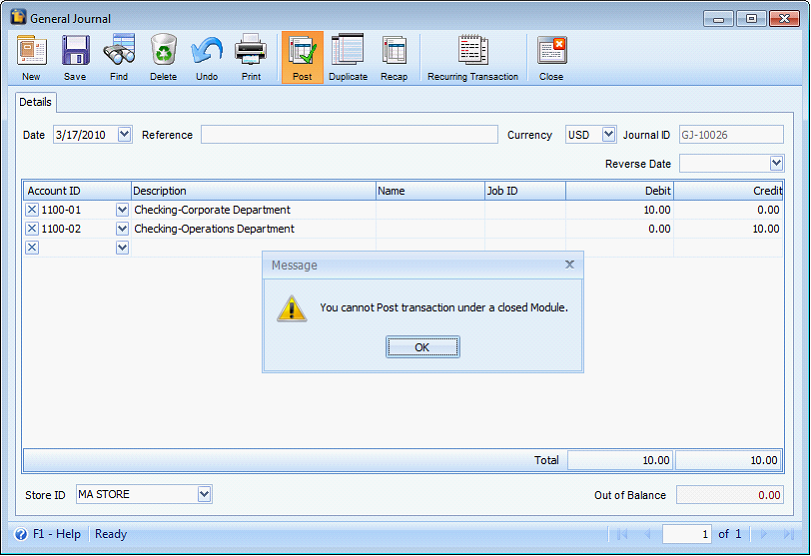 Here's the list of transactions per module that will be affected when closing the particular module.
| | |
| --- | --- |
| | Customer Prepayment |
| | |
| --- | --- |
| | Customer opening Balance |
| | |
| --- | --- |
| | Invoice |
| | |
| --- | --- |
| | Receive Payments / Receive Payments - Multi Customer |
| | |
| --- | --- |
| | Credit Memo |
| | |
| --- | --- |
| | Finance Charges |
| | |
| --- | --- |
| | Vendor Prepayment |
| | |
| --- | --- |
| | Vendor Opening Balance |
| | |
| --- | --- |
| | Bill |
| | |
| --- | --- |
| | Bills from Bill Batch |
| | |
| --- | --- |
| | Pay Bills/ Pay Bills – Multi Vendor |
| | |
| --- | --- |
| | Debit Memo |
| | |
| --- | --- |
| | Inventory Assembly |
| | |
| --- | --- |
| | Inventory Adjustment |
| | |
| --- | --- |
| | Inventory Build Assembly |
| | |
| --- | --- |
| | Inventory Transfer |
| | |
| --- | --- |
| | General Journal |
| | |
| --- | --- |
| | Depreciation |
| | |
| --- | --- |
| | Write Check |
| | |
| --- | --- |
| | Withdrawal |
| | |
| --- | --- |
| | Deposit |
| | |
| --- | --- |
| | CC Charges |
| | |
| --- | --- |
| | CC return |
| | |
| --- | --- |
| | Fixed Asset Journal |
| | |
| --- | --- |
| | Paycheck |
| | |
| --- | --- |
| | Employee Opening Balance |
| | |
| --- | --- |
| 6. | Manufacturing Transactions |
| | |
| --- | --- |
| | Material Issue |
| | |
| --- | --- |
| | Material Return |
| | |
| --- | --- |
| | Invoice Jobs |
| | |
| --- | --- |
| | Bill Jobs |
| | |
| --- | --- |
| | Manufacturing Order |
| | |
| --- | --- |
| | Stage To Process |