Changes on the Direct Deposit Form
The Direct Deposit form is enhanced to cater three different payroll file formats (NACHA/ ACH, WEB Pay and NPC Pay 2) in one common form.
Below are the changes on Direct Deposit form:
1.

The

Direct Deposit

will now show a single Direct Deposit menu under Payroll menu as shown below.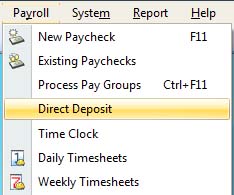 2.

Format

field is also added in the Direct Deposit form. This is a combo box field where you can select two different formats:
•

Template

– This is the default setting of Format field. Choosing this format will enable the Template combo box
•

NPC Pay

– Choosing this will disable the Template combo box


3.

The

Template

combo box field is defaulted to

NACHA/ ACH

. In this combo box there is an ellipse button that when clicked will open the

Direct Deposit Template

form, which is used to configure how a paycheck information be generated. The Template field will allow you to select the Direct Deposit Template to use, either

NACHA/ ACH

or

WEB Pay

.

---