How to update your ShipRush License Key
Here are the steps on how to update your Shiprush License Key:
1.

If you already have ShipRush installed you can enter the updated serial number in the

ShipRush Program Settings

form.  Click the

Enter ShipRush License button

and enter the new license code to update ShipRush.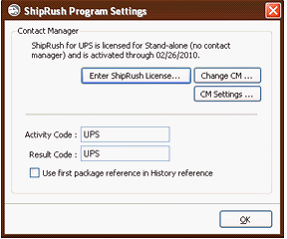 2.

Run Custom Vantage Office and open the

Company Preferences

form and click the

Add On Settings button

.  Enter the provided Add On Serial Keys.

Note: It is best if you copy and paste the ShipRush License Number.