Standardized Ship Via Like Forms
All Single Grid forms in Custom Vantage Office follow a standard implementation of displaying a new row once the form is opened. An example below shows the Ship Via form displaying a new blank row once you open it.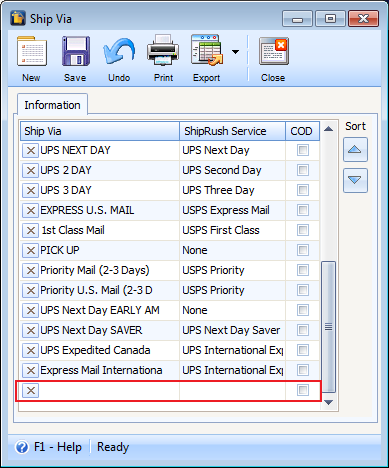 When you click the New button, the focus as indicated by the cursor, would directly shift to the new blank row.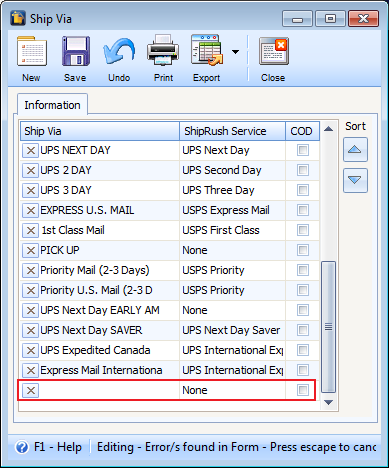 Deleting a blank row is not allowed. Otherwise, trying to delete it will do nothing. On the other hand, deleting a line item by clicking the X button should display a validation message as shown in the example below.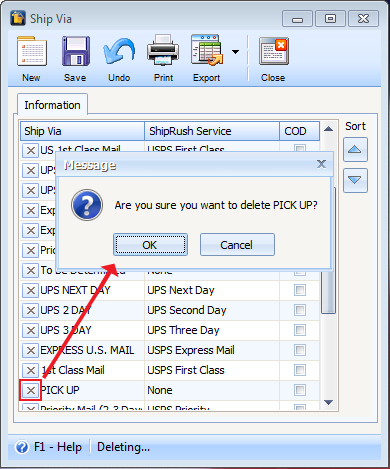 Other Single Grid Forms found in Custom Vantage Office:
SALES
Invoice Transaction Type
Sales Rep Split Commission
Sales User Fields
MANUFACTURING
Job Type
Labor Type
Equipment Expense
Equipment Other Expense
Guarantee Type
Job User Fields
Job Equipment
Project Category
Project Subcategory
Project Plan
Cost Type
ACCOUNTING
Credit Card Type
Fixed Asset Category
PAYROLL
Employee Pay Group
Worker's Compensation Codes
INVENTORY
Inventory Class Code
Inventory Units of Measure
Inventory User Fields
Edit Subcategory
Inventory Matrix Types
Warehouse Type
CONTACTS
Title
Customer Type List
Customer Status
Credit Card Type
Customer Contact Type
Customer User Fields
Customer Contact User Fields
Customer Rewards Program
Prospect Type List
Prospect Status
Vendor Type List
Vendor User Fields
Vendor Contact Type
Vendor Contact User Fields
Opportunity source
Campaign Type
Campaign Status
Campaign User Fields
Sales Rep User Fields
Sales Rep Type
Opportunity Type
Opportunity Product
Opportunity Stages
Opportunity User Fields
Sales Rep Group Type
Sales Rep Type
Industry
Email Address Book
SYSTEM
Recurring Group
Department
Salutation
Company Policy
Customer Data Tabs
Symbols
Standard Comments
Zip/Postal code
Country
Currency Exchange Rate
Payment Method
Schedule Category Type
Customer Data field
Prospect Data Field
Prospect Data Tab
Freight Rates
Contact Source