Summarize Inventory Alerts and Hyperlink on Reminder List
The Reminder List form provides a summarized list of items to be completed like unposted transactions and inventories below the reorder point. This form can be set to open every time you run Custom Vantage Office by enabling the Show Reminder List on startup at the bottom of the form.
There are two ways to open the Reminder List form.
1.

From System

menu, select Company

Preferences. Under General

tab, click Reminder List button.
2.

From System menu, select Reminder

List.
You will notice that the Reminder List form is divided into two columns: Reminder Type and Reminder Info. The Reminder Info column shows the total number of items for posting or for re-order.
Example:
Try to check the Reorder Point of current Inventory. The total number of inventories with stock equal or less than the Reorder Point is summarized in the Reminder List.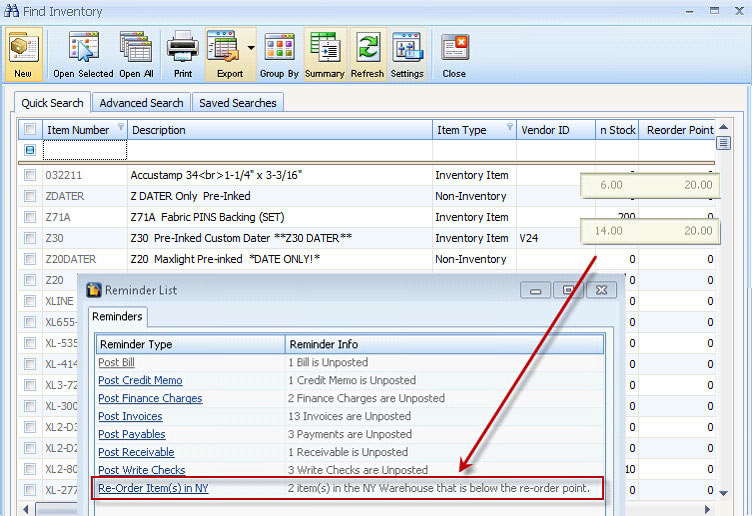 Note: Inventory with Item Type Service, Other Charge, and Non-inventory will not be counted on the Re-order Point Item.
The Reminder Type column shows the list of transactions for posting. You will notice that the list is in a hyperlink format which will bring you to the form that needs to be posted or completed. This feature saves you a lot of time since it will eliminate the instances of finding all the unposted transactions.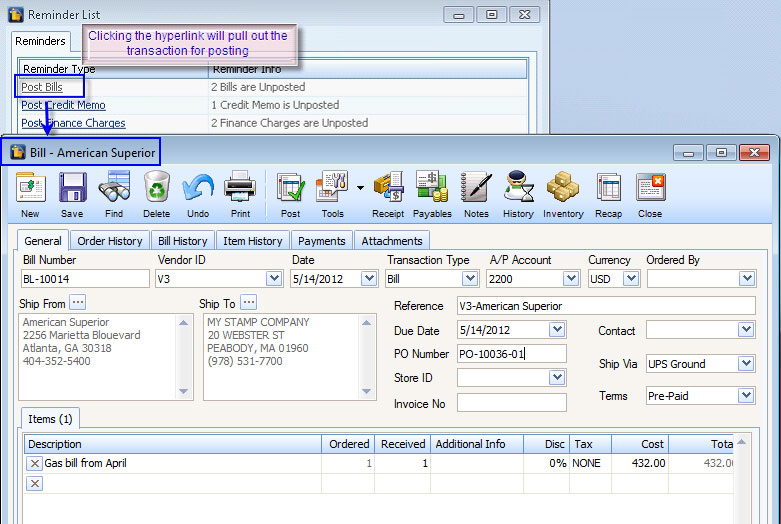 ---