By clicking the arrow up/arrow down button on the lower right of the Chat Monitor window, the Customer Chat Monitor will expand to show in real-time your site visitor's activity.

The representative will be able to send an invitation to chat with any visitors by clicking on the (invite) button in front of the visitor. The representative will then be able to type a custom message to be sent as an invitation to the customer. For example, a representative may see that a customer is looking at a particular product on your site and then send an invitation saying "Would you like to talk to a representative about this product?"
Note: The visitor tracking feature works by tracking each different IP address on your site. If several users are browsing using the same IP (I.E. they are behind a proxy), the information displayed by the visitor tracking, might not be accurate.
The Visitor Tracking displays information of the current users on your site as well as their current activity tagged with one of six colors:
Green: User is browsing the site. You can proactively invite him/her to a chat session.
Yellow: User has requested a chat and is waiting for his/her assigned representative.
Red: User requested a chat, but no one attended the call (all the representatives were busy).
Blue: User is currently on a chat session.
Grey: User has finished his/her chat session.
Purple: This user doesn't want to be bothered with a proactive chat.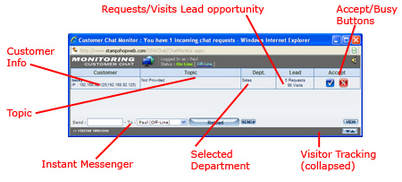 Collapsed Customer Chat Monitor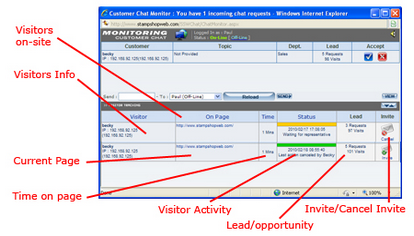 Expanded Customer Chat Monitor with Visitor Tracking Enabled
Note: If you have launched the Customer Chat Monitor, even if you log out from the Customer Chat system, the Customer Chat Monitor will remain working and your status will be on-line. In order to stop the Monitor and set the representative's status to off-line, the representative needs to click on the Off-line link and then close the window.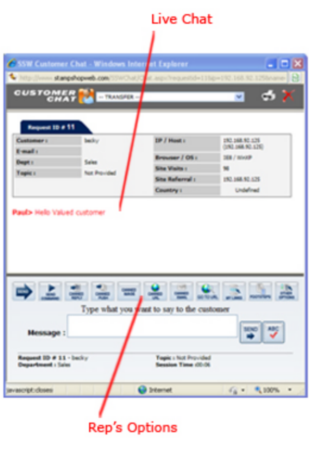 The representative's chat window